Scent-sational Essential Oils and Four Seasons
The Healing Powers of Essential Oils
Did you know? Essential oils—including eucalyptus, peppermint, rose, and tea tree-are nature's ancient medicine, abundant with therapeutic effects. The latest scientific research shows that many popular essential oils and aromatherapy can boost your health and well-being.
A
lso, specific essential oils are often more popular during each of the four seasons. Here, take a look at how the comfort and calms of scent can help you enjoy Earth's changes year-round. You can use these oils in different forms, including: Air sprays, candles, cleaning products, diffusers, beauty and hygiene items--and even in cooking foods and beverages! Read on--from The Healing Powers of Essential Oils...
WINTER
It's the Season: Shorter days, longer nights and often chilly temperatures call for hot, comfort food. During the holiday season, festive food, like hearty casseroles, soups, muffins, breads, puddings, and pies are commonplace. Then, when the New Year arrives it's not uncommon to want to eat clean food and get a fresh start. Immune-enhancing, mood-boosting, warming aromas are scents that come with winter-time. They can be found in plant-based salads, vegetarian casseroles, and soups, with lighter desserts.
Healing Winter Recipes: Biscotti, breads, cakes and scones are popular foods to warm you up, and essential oils can give recipes extra flavor, especially when seasonal citrus or herbs are not available.
Winter Culinary Essential Oils: Anise, clove, cinnamon, ginger, nutmeg, and peppermint.
For 5,000 years plants have been nature's amazing healers. When the Egyptians were sick they used the oils from plant resins, bark, and spices to repair their bodies.
Ancient Romans soaked their tired, ravaged bodies in healing oils to reduce fatigue and ease painful, aching joints.
Cleopatra's secret to soft, flawless, nearly ageless skin was said to come from bathing in these essential oils. King Tut was buried with alabaster jars full of them because it was believed these oils would help him through to the afterlife.
Perhaps the most stunning revelation of the miraculous-like
healing abilities of essential oils came during the Middle Ages.
As the deadly bubonic plague spread like wildfire, devastating entire towns and cities, wiping out the lives of millions of men, women, and children . . .
One small group of vigilantes appeared strangely immune to the plague. Known as the four French thieves, they plundered and pillaged among the deathly ill day in and day out, robbing people of their bacteria-ridden possessions. Strangely enough, they never got sick.
It was as if the four thieves had an impenetrable invisible shield that made this lethal predator recoil. Their secret? Legend says the thieves stayed healthy and immune using a special blend of oils they applied during their crime sprees.
In just a moment, you'll discover how you can get your hands on the coveted blend the four thieves used. (It could come in handy right now for added protection from flu and viruses!) But before we go any further, you should know that while these stories are anecdotal and handed down through history . . .
Today's scientific research supports the
incredible healing potential of these amazing oils.
Not only has science shown their aroma alone can stimulate the pleasure center of your brain, but the wondrous healing properties of essential oils like lemon, chamomile, lavender, and many others can: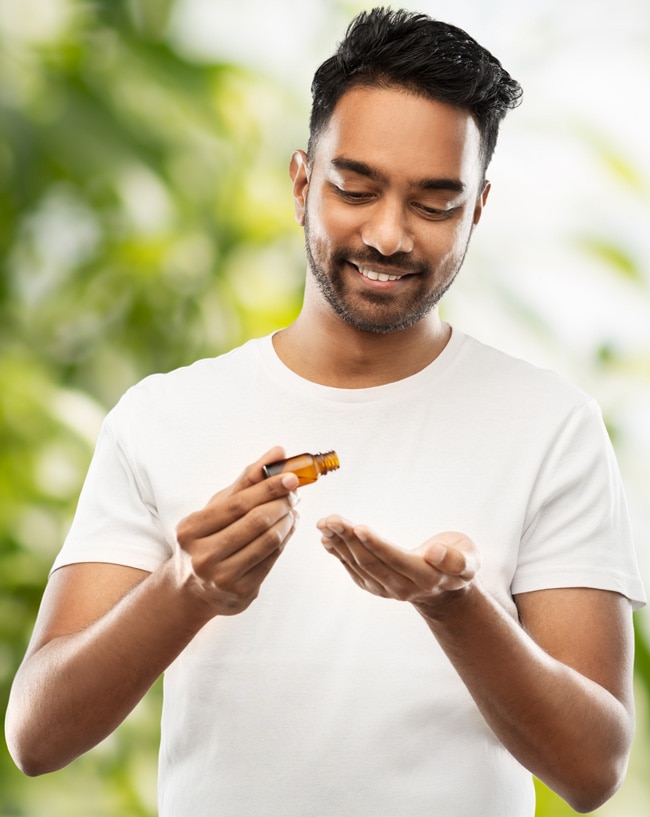 Bolster the immune system
Relieve the pain and discomfort of arthritis
Ease your body into a sound sleep
Banish blue moods and feelings of depression
Lower the risk of heart disease
Boost energy and stamina
Potentially slow tumor growth
Lull your body into Zen-like relaxation
Researchers have even discovered an essential oil that can act like ibuprofen! These scientists have found sandalwood can suppress cytokine cell production. You may have heard about cytokine cells in the news recently.
They're the cells which can create a "cytokine storm" in the body when powerful novel viruses hit, causing the immune system to go into overload and attack itself.
That's just a fraction of what essential oils can do.
Healing oils from Mother Nature's medicine cabinet can also help you:
Defy cravings and lose weight — imagine never caving to cravings for chocolate or chips again!
Power up your brain and banish brain fog — would you believe rosemary oil does the trick?
Ease the pain of a mild sprain — speed recovery with eucalyptus. This essential oil penetrates deep to numb pain and ease soreness, swelling, and bruising.
Heal burns, relieve heartburn, settle a queasy tummy, soothe hemorrhoids, ease constipation, and more.
There's just one problem . . .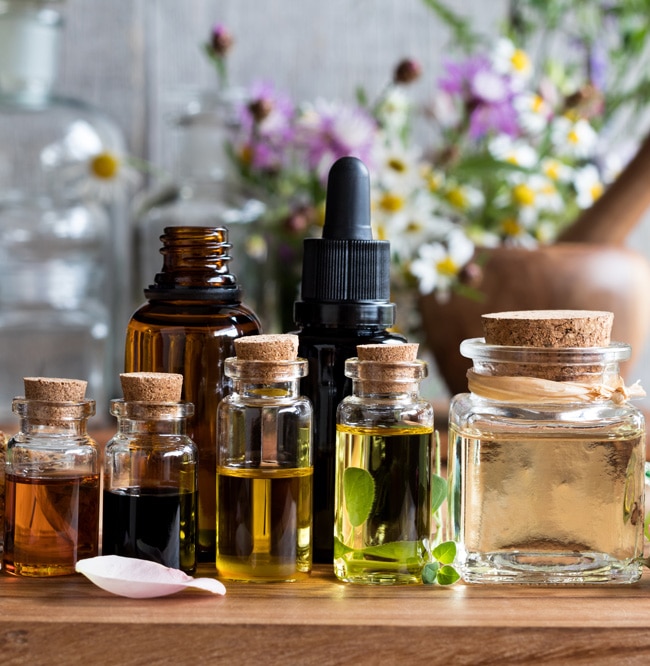 Essential oils can be so darn confusing.
Which ones do you use for a sore throat . . . aching back . . . colds and flu . . . allergies . . . fever . . . upset stomach . . . insomnia . . . fibromyalgia . . . or to keep your arteries and cells healthy?
Which ones do you use to make your carpet smell fresh . . . clean your windows, oven, or stainless-steel pots and pans . . . or get rid of pesky ants?
How much should you use? Can you blend them together?
Great news! You don't have to figure out
a thing — it's already been done for you.
There's no need to spend hours researching healing oils. And you don't have to spend your hard-earned money joining an essential oils club, shelling out money for a monthly membership or meeting a quota.
Cal Orey, author of the bestselling book The Healing Powers of Honey, has done all the legwork for you!
In her blockbuster NEW book, The Healing Powers of Essential Oils, you get everything you need to unleash the incredible potential of nature's medicine inside one easy-to-read-and-follow book. Here's a quick sneak peek: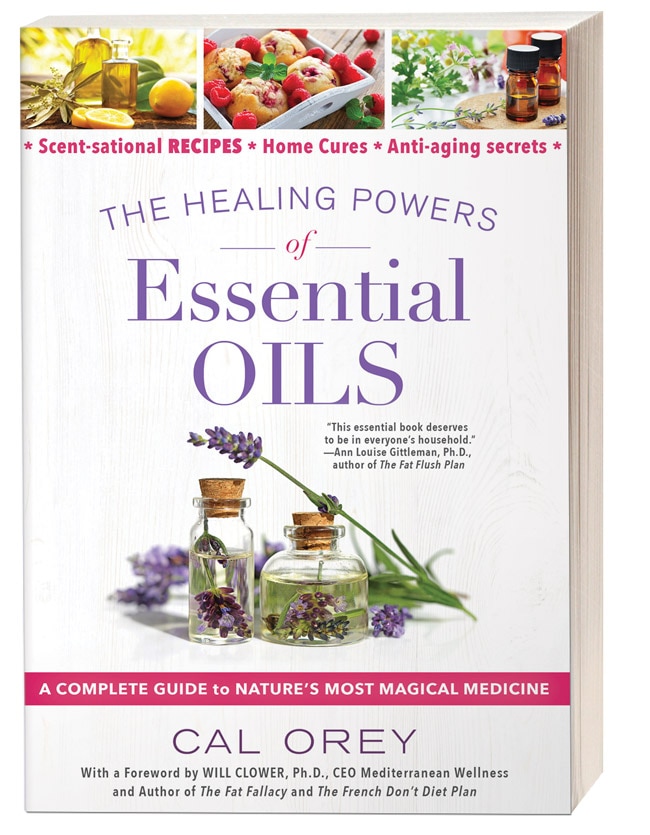 Trouble sleeping? That calls for 2 drops of the oil that comes from this beloved bright red flower mixed with 1 drop each of chamomile and lavender. Gently rub it on and get some rest! Page 193
Open your lungs and breathe easier! Need a little extra breathing support with asthma? Apply 2 drops of eucalyptus oil to one cup of this steaming beverage. Inhale and breathe freely. Page 178
Protect against contagious and potentially lethal bouts of the flu or nasty viruses with the herb you use on your Thanksgiving turkey! You can add it to your diet or mix up a spray or lotion you can rub into your skin. Page 122
When indigestion and gut discomfort strike, reach for the essential oil used to calm delicate digestive tracts — it contains more than 100 powerful healing compounds. Page 65
Mosquitoes biting? Try this natural insect repellent — it's also great for releasing congestion and promoting heart health. Pages 40-41
The Healing Powers of Essential Oils shows you:
Which of the top 20 essential oils to use for every health concern or condition (there's a complete chapter on each one and loads of recipes, too!)
Correct dosages for everything from relieving anxiety and headaches to cleaning arteries and clearing your bowels
How often to take or reapply healing oils
Secret to combining 2, 3, 4, or more oils for more powerful healing
Creative ways to use the oils — massage, sprays, diffusers, cooking, and more
Everything you need to know is in one information-packed book that helps you take control of your health and the health of your loved ones naturally.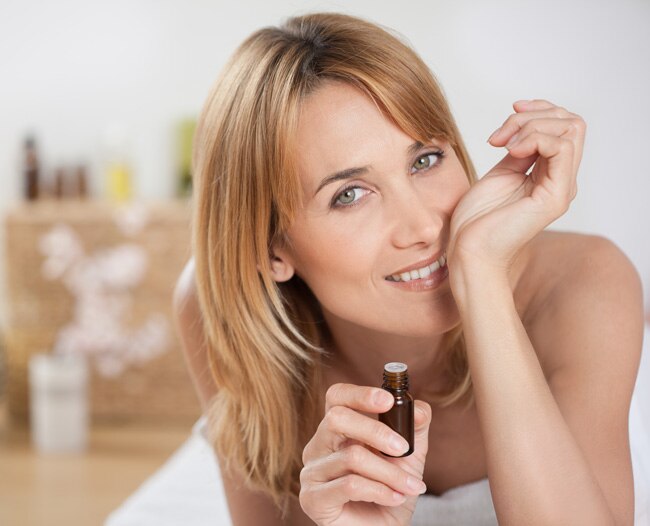 The Healing Powers of Essential Oils reveals the hidden medicinal and therapeutic powers of the top 20 essential oils that'll help you feel better than you have in years.
Think about it: Would you rather rub on a safer, natural pain remedy or pop a pill loaded with side effects? Clean your house with chemicals or put nature's finest botanicals to work disinfecting and cleaning?
Heck, The Healing Powers of Essential Oils even shows you how to easily cook with these oils. They're naturally full of robust flavor and healing properties.
Sniff them, eat them, rub them in . . .
No matter how you use essential oils, they work.
There are so many easy ways to apply essential oils anywhere, any time — whether you're at home or at work, in the car, at the grocery store, on the tennis court, or having lunch with your friends.
Staying at a hotel and concerned about whether the room was properly sanitized? Simply bring a spray bottle full of this natural antiseptic and astringent. Page 122
Hemorrhoids causing you trouble? Soothe inflammation and irritation with a homemade compress of chamomile and the oil on page 190.
Pollen count making sinus pain flare? Put eucalyptus oil to work on your sinus headaches and dental pain. Get the fast sinus-clearing recipe on page 199.
Kid or grandkid fighting acne? Use an undiluted drop of this oil — a natural antibacterial — on blemishes once or twice a day to zap them. Page 183
Even just a good, strong sniff of lavender can boost the serotonin in your brain, putting you in a good mood for hours — and it may help you live longer, too. There are so many ways you can use essential oils . . .
Put them in a spray bottle . . . add them to your skin lotion . . . diffuse them . . . fold them into your favorite recipes . . . massage them into your skin . . . roll them on . . . make a compress to apply them . . . bathe in your favorite oils . . . the possibilities go on and on.
Why do nature's essential oils work so well?
For starters, they're chock-full of disease-fighting antioxidants. As you'll discover in your FREE COPY of The Healing Powers of Essential Oils, these antioxidants protect the body's cells from damaging free radicals that can make you sick. Claim your FREE BOOK now to learn more.
The Healing Powers of Essential Oils is a treasure trove of practical information you can start using immediately:
Steaming-hot soup scald your tongue? Heal it fast with the oil that soothes — it's been called "an easy natural remedy!" Page 201
Health worries have you stressed? Massage these 3 essential oils into your skin. It'll help stimulate the lymphatic system, calm your nerves, and ease muscle tension. Page 202
Take the itch out of mosquito bites! Sascha Beck, an Australian naturopath and aromatherapist, swears these 2 oils mixed together are the best remedy she's ever found. Great for sunburn, too! Page 192
Got a cut? Turn to nature's antiseptic: tea tree oil diluted with apple cider vinegar. Get the exact mixture on page 184. What to expect: less burning and redness, and faster healing.
Discover the BEST essential oil for heart health — it has a natural anti-inflammatory effect. Page 153
Sweeten your chances of preventing a devasting diagnosis. A study published in the Journal of Agriculture and Food Chemistry reports this essential oil contains many of the same antioxidants that may inhibit the growth of breast and lung cancer cells. Page 142
The #1 precaution you should always take before using essential oils that no one ever tells you about. Page 23
"Toothpick tip" for getting the best results when cooking with essential oils. Use it for perfect results every time.
Never swallow essential oils UNLESS you first check if they're this quality. Page 23
Make your own antibacterial spray! All you need are these 2 oils and some water. Page 138
Fight off infection and flu with the famous Four Thieves formula — great for use during superbug outbreaks and when antibiotics don't work. Page 26
Kick sugar cravings to the curb with a quick sniff of this — it works great! Page 161
Calm a cough with WHAT? Surprise! Popular pesto ingredient is a natural cough suppressant. Page 35
Wait! Before you use eucalyptus oil for relieving sinus issues, you need to know which of the two varieties is best — one is a lot stronger than the other. Page 56
Lose up to 7 pounds in 2 days! Try this easy jumpstart and detox your body. Page 168
Help protect your body against heart troubles and even breast and lung cancer with vanilla oil — studies show great promise! Page 142
LOADED with recipes, insights, advice, and more, The Healing Powers of Essential Oils is the most comprehensive, easy-to-follow book on essential oils — how to use them and which to use — we've ever seen.
Your FREE BOOK includes:
Dozens of home remedies to help ease anxiety and stress, improve sleep, visibly smooth wrinkles, stop a scratchy throat, soothe aches and pains, and much more!
Over 50 delicious recipes — breakfast, lunch, dinner, soups, salads, and delicious desserts — all with naturally enhanced flavors from nature which heap on the health benefits. There's even a weight-loss recipe for helping you control cravings on page 163.
Decade-by-decade guide to the best essential oils in your 40s, 50s, 60s, and beyond.
Handy chart for how much essential oil to use with a carrier oil to dilute the strength.
Storage tips for keeping your essential oils fresh.
Quick, at-a-glance list of each essential oil and the health concerns that each one may help alleviate for easy reference. And more...